PRESIDENT'S INAUGURAL SPEECH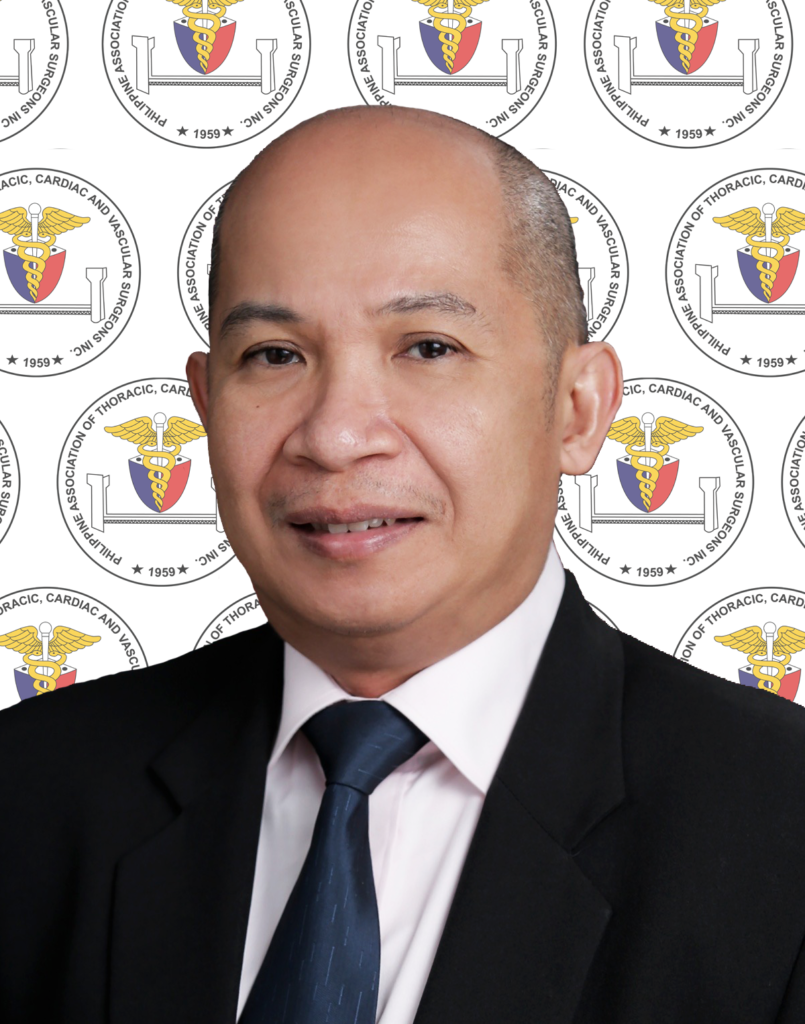 (Greetings, acknowledgment)
With social distancing easing up, it feels surreal to finally share a room with all of you tonight in real-time. The pandemic has dramatically changed our lives, and we are moving into a new age that challenges our expertise, thus, demands us to rethink our professional beliefs and practices. As we navigate a changing medical slope, may we remain true to our mission of rearing "competent, ethical, and compassionate surgeons" and delivering the "highest standard of practice in thoracic, cardiac and vascular surgery."
We cannot lose heart during these uncertain times. Our glorious history ­– from its inception on April 08, 1959, to the streamlining of our core curriculum with the creation of the tracking pathways in 2017, and the recent adoption of the name  Philippine Association of Thoracic, Cardiac and Vascular Surgeons Inc. – stands as a testament of our commitment to evolve and to serve as the lifeblood of societies' undying pursuits in these fields.
Louis Pasteur said, "Chance favors the prepared mind."  We must be forward-looking as we explore a new medical landscape.  This necessitates rekindling our passion for research and pursuit for knowledge.  We have revived the research presentation in 2020 which allows us to learn and explore specific interest about our field of specialty.  The search for new knowledge does not end with years of experience, as many uncharted areas in our profession need new lenses to probe.
With research comes practice. Despite the limitations of in-person training, our continuing surgical education migrated online and is now gradually transitioning back to face-to-face sessions.  This hybrid approach to our training program proves that no virus can thwart our determination toward learning. Progressive thinkers believe that stagnancy is a more significant threat than any crisis.
Along with surgical education is the administration of the in-service examination, recently handed down to us by the Philippine Board of TCVS. Appraising our trainees is not an easy feat; the responsibility of screening a new breed of cardiac, thoracic, and vascular surgeons should be exercised with the utmost integrity, prudence, and proficiency. The lives of many are at stake, and as we send off new leaders to the field, we share the collective accountability of saving lives and protecting the interest of the people. As the newly appointed President of PATACSI, I would like to strengthen the continuing education program through a comprehensive program aimed at raising the achievement performance of our trainees in the board exam. More than preparing them for their certifying assessment, we wish to hone young surgeons with expertise and leadership ability at par with international standards. By inspiring a new generation of leaders, we are laying the groundwork for a succession plan for this organization to thrive in the future and cement a legacy for posterity.
With practice comes community service. Amid the scare of the pandemic, our surgical missions have expanded and have served more regions since 2021. We can only anticipate our sustained vigor toward assisting needy communities as we are not only men and women of substance but also well-meaning, benevolent professionals. We find it in our hearts to give back, to pump life.  We will continue this social responsibility in a structured approach.
PATACSI is a beacon light that guides us as we traverse unknown chambers. The culture of sharing best practices dispenses valuable insights for us to flourish together as a community of friends and professional surgeons that believe in sustained development.
I would like to stick with the mission and vision of PATACSI and strengthen our research, continuing surgical education, leadership, and service to the community. All of these can only be achieved with your support. Thank you for entrusting PATACSI under my leadership.
Let me end my speech with this quote: "Amateurs practice until they get it right; professionals practice until they can't get it wrong." With a growth mindset, we are here to stay. The blood of this organization won't run dry.
Thank you, and good evening.

NELSON S. BAMBALAN, M.D.
PATACSI President 2023